Tub to Shower Conversions Waterbury
Professional Tub to Shower Conversion Services in Waterbury, New Haven County CT
Tub to Shower Conversions in Waterbury and New Haven County
At Waterbury Bathroom Remodel Specialists, we take great pride in offering top-quality tub to shower conversions in Waterbury and New Haven County. Our dedicated service aims to transform your old, underutilized bathtub into a modern and functional shower space tailored to your specific needs and preferences.
With years of experience in the industry, we have mastered the art of converting bathtubs to showers with finesse. Our skilled professionals are well-versed in the latest tools and techniques, ensuring that each conversion project is carried out seamlessly and efficiently.
Whether you are a homeowner looking to revamp your bathroom or a business owner seeking to enhance your commercial space, we cater to domestic and commercial customers. No matter the size or complexity of the project, we have the expertise to handle it all. From compact bathroom spaces to more extensive commercial installations, no project is too big or too small.
Our team of tub-to-shower conversion experts is here to guide you through the entire process, from the initial consultation to the final installation. We understand that every customer's needs are unique, and we strive to incorporate your ideas while offering our professional insights to create the perfect shower space for you.
We are committed to providing exceptional customer service at Waterbury Bathroom Remodel Specialists. Your satisfaction is our priority, and we work diligently to exceed your expectations at every step. We take the time to understand your requirements, ensuring that the final result reflects your vision.
If you are ready to transform your bathroom into a stunning and functional shower space, give us a call or fill out our online inquiry form. Our friendly team is eager to assist you and provide a free quote. Embrace the convenience and elegance of Tub to Shower Conversions, and let us bring your dream bathroom to life.
What are the benefits of a Tub to Shower conversion?
Are you considering a tub to shower conversion? Discover the numerous benefits that come with this transformation. Converting your bath to a shower offers enhanced accessibility, space-saving advantages, and a modern aesthetic, making your bathing experience more convenient and enjoyable. Let's explore each of these benefits in more detail below.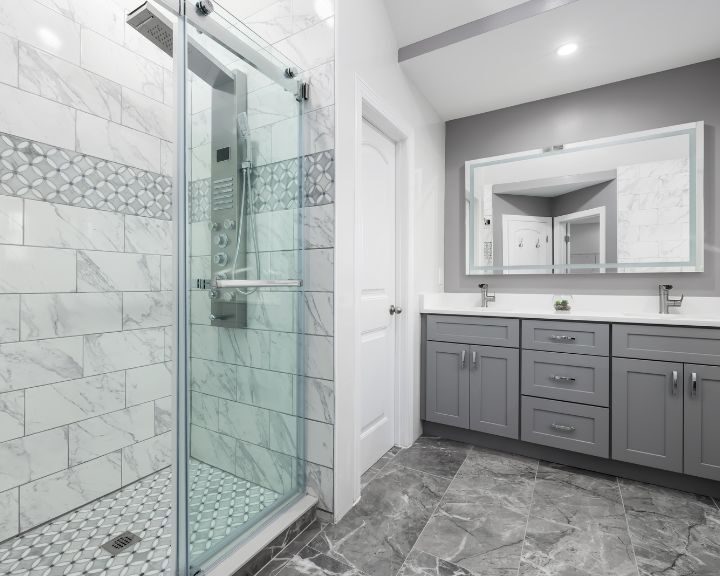 Tub to Shower Conversions vs. Bathroom Remodeling
Consider tub-to-shower conversions as a practical alternative to a full bathroom remodel. It offers cost-effective solutions and a quicker installation, allowing you to enjoy the benefits of a new shower without extensive renovation.
A tub to shower conversion offers a practical and efficient alternative to a full bathroom remodel. It presents numerous benefits for homeowners looking to upgrade their bathroom space without the extensive expense and time commitment. Converting a tub to a shower is a quick, convenient, and cost-effective way to breathe new life into your bathroom.
One of the primary advantages of a tub-to-shower conversion is the time and money saved. While a complete bathroom remodel can be a major undertaking, requiring significant financial investment and several weeks of construction, a tub-to-shower conversion can typically be completed within 1 to 2 days. This significantly reduces the disruption to your daily routine and allows you to start enjoying your new shower space sooner.
Despite being a more focused project, a tub-to-shower conversion still provides many benefits associated with a full bathroom remodel. First and foremost, it can increase the resale value of your property. Modern buyers often prefer spacious and accessible showers over traditional bathtubs, making a converted shower a valuable selling point. Additionally, by converting the tub to a shower, you create an opportunity to craft a custom style or look that matches your taste and complements the rest of your home decor.
Moreover, a tub-to-shower conversion removes old and outdated features that may have become an eyesore in your bathroom. Say goodbye to the cumbersome bathtub that rarely gets used, and embrace the efficiency and elegance of a well-designed shower space. Removing the tub can also make the bathroom appear more extensive and open, giving it a more contemporary and inviting feel.
Regarding functionality, showers offer enhanced accessibility for all family members, especially those with mobility limitations or small children. The ease of stepping into a walk-in shower compared to climbing over a high bathtub wall cannot be overstated. Showers also come with various customizable features, such as built-in seating, grab bars, and stylish shower heads, allowing you to tailor the space to suit your needs and preferences.
A tub-to-shower conversion is bright for those seeking an efficient, cost-effective bathroom upgrade. With similar benefits to a full bathroom remodel, including increased property value, custom design options, and removing outdated features, a shower conversion can transform your bathroom into a modern and functional space. Enjoy the convenience of a quick installation, minimal disruption, and a fresh new look in just a fraction of the time and expense of a complete renovation.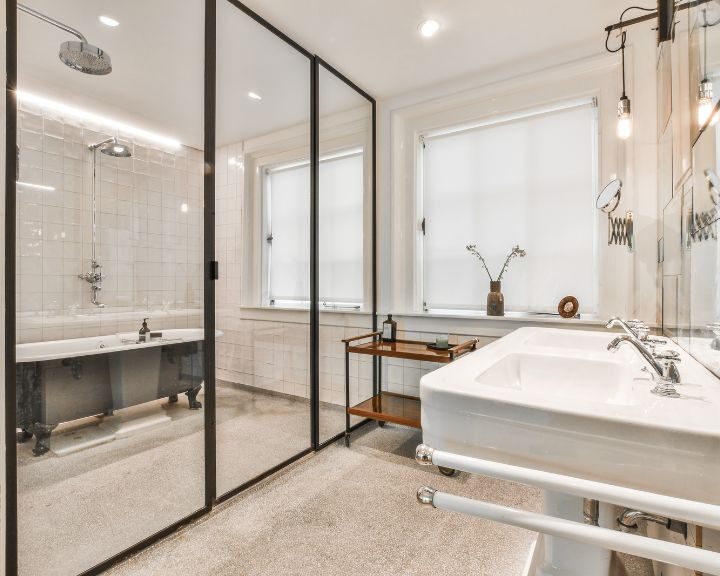 Frequently Asked Questions
Professional Tub to Shower Conversions Near Me
At Waterbury Bathroom Remodel Specialists, we offer professional tub to shower conversions near you, providing a seamless and hassle-free way to upgrade your bathroom. With our expert team, we ensure a smooth and efficient conversion process tailored to your specific needs and preferences.
Areas Served:
New Haven

Waterbury

Hamden

Meriden

West Haven

Milford

Wallingford

Naugatuck

Cheshire

East Haven

Branford

North Haven

Guilford

Southbury

Ansonia

Madison

Wolcott

Seymour

Orange

North Branford

Oxford

Derby

Prospect

Woodbridge

Middlebury

Beacon Falls

Bethany
Transform your outdated bathtub into a modern, functional shower space in no time. Contact us today or complete our inquiry form to schedule a consultation. Let our experts guide you through the process and create a customized shower that exceeds your expectations. Enjoy the benefits of a tub to shower conversion with Waterbury Bathroom Remodel Specialists.